Loose Stripper Ring
Professional Design
Special Polyurethane, Perbunan/Buna N
Long Lasting Flexibility
Bur-free Slitting
INQUIRY
Description
Logo

Goodklife Logo, Quality Assurance Customized Logo

Dual Durometer
Dual Durometer Design
Longer Work Life

Marks
Material Code
Production Tracking Code
PRODUCT PARAMETER
Brand

Goodklife

Material

Polyurethane, Perbunan/Buna N

Size

Customized

Inner Layer

Harder Hardness

Outer Layer

Suitable Hardness according to your application

Color

as request, multiple choices

MATERIAL SELECTION
Different customers cut different materials. Even for the same customer, different materials are often cut on the same slitting machine. In this way, there are different requirements for loose stripper rings.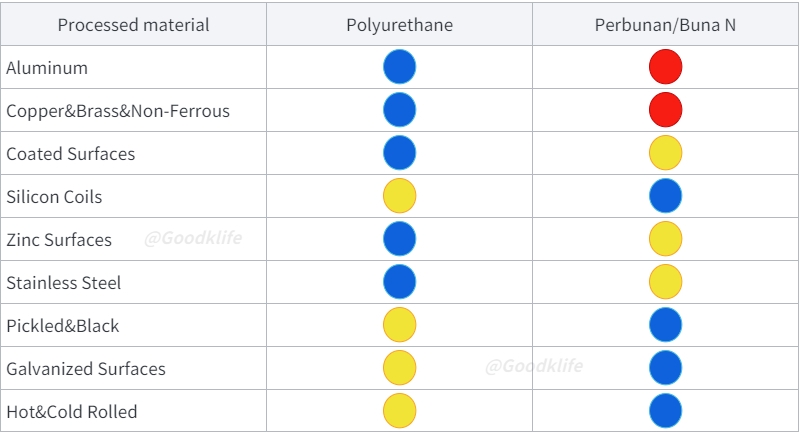 TOLERANCE SELECTION
Different OD
The most suitable outside diameter is recommended according to the characteristics and thickness range of the coils. The appropriate outside diameter difference can better push out the slit strip and avoid repeated cutting of the strip.

Multiple Colors
Loose stripper rings with different outside diameters are made in different colors. It is easy to select and use quickly.

Depending on your budget and requirements, our team of experts will develop a customized solution for you, including but not limited to the selection of slitting tool materials, accuracy, etc. If necessary, our field team will come to your company to study the current cutting problems and improve your cutting quality.

INCREASED LIFESPAN & COST SAVINGS
By selecting the right raw material for the loose stripper ring and combining it with proven production processes, we can produce bonded stripper rings that will last significantly longer and thus reduce your tool purchase costs.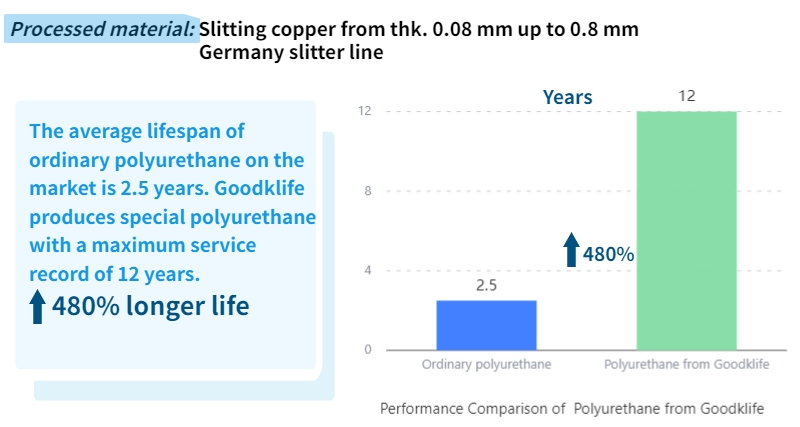 PRECISE STRIP WIDTH CONTROL
Ultra-high precision slitting tools help you achieve perfect strip width control. The application of "+", "0" and "-" marks further improves the cutting accuracy.

| | | |
| --- | --- | --- |
| width of the 2nd strip 27.95 mm | width of the 6th strip 27.95 mm | width of the 9th strip 27.95 mm |
EDGE QUALITY CONTROL
Suitable raw materials for tools and advanced production processes ensure robust slitting tools. Ultra-high precision slitting tooling ensures dynamic and stable upper and lower knives clearance.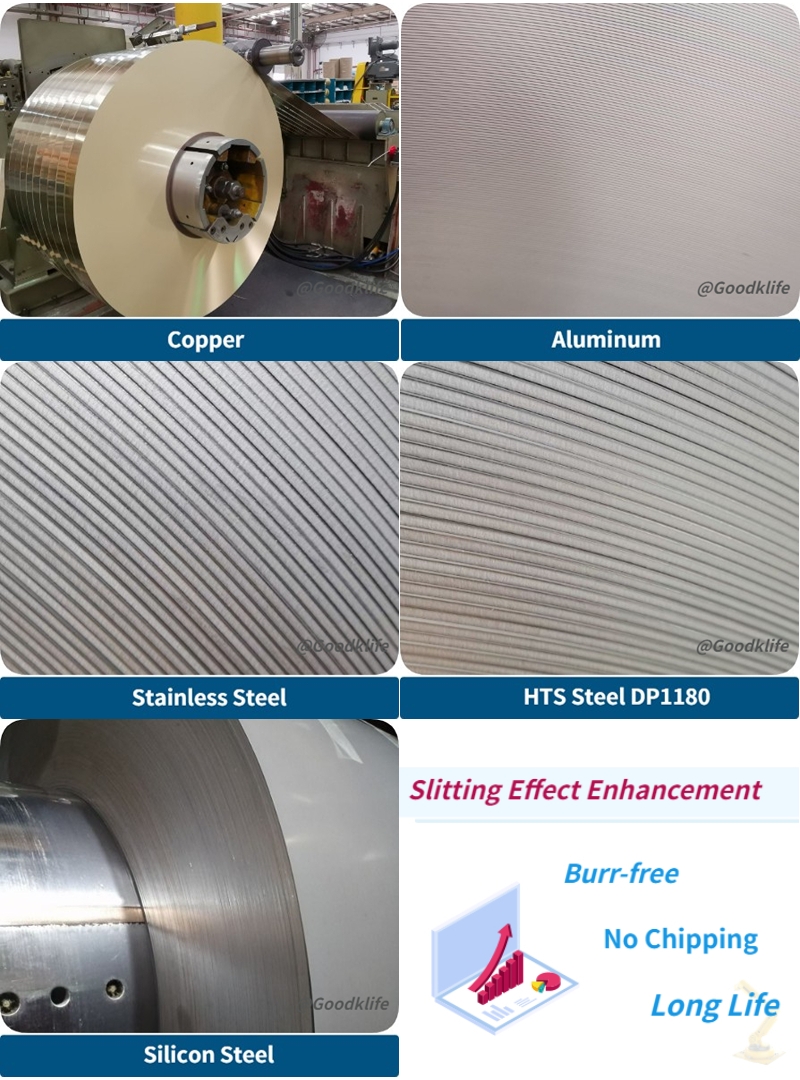 SGS AUTHORITATIVE TESTING
Goodklife has always been committed to providing high-quality, ultra-high-precision cutting tools to customers around the world. In order to enhance mutual trust, for the first cooperation, we now provide free SGS testing services to invited customers to dispel all your doubts.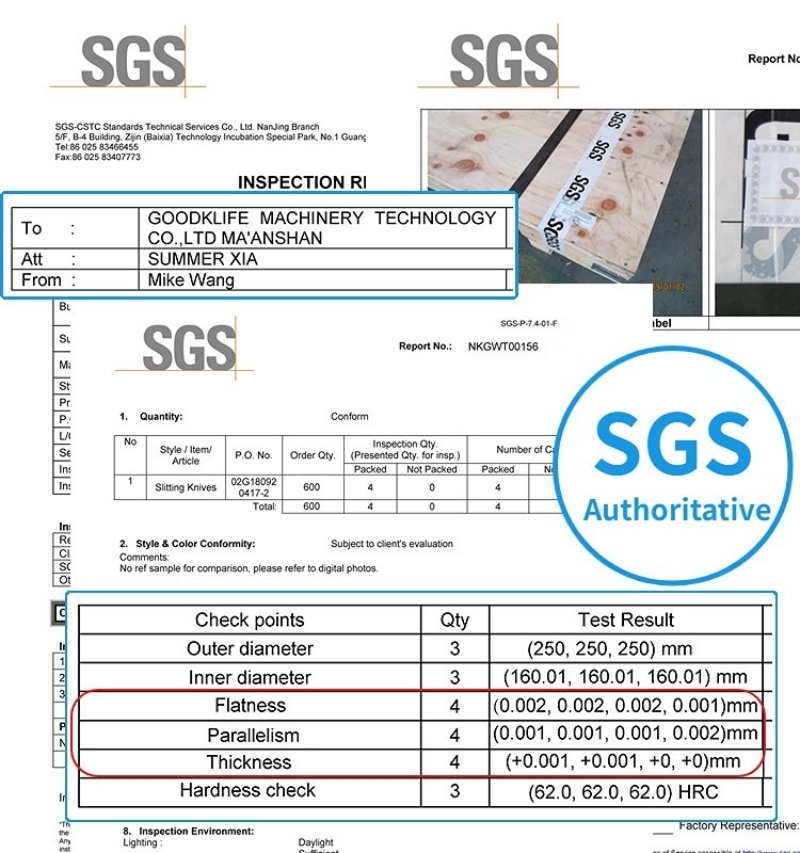 MATERIAL QUALITY ASSURANCE
Raw material is the foundation of loose stripper rings quality. Goodklife will choose according to the characteristics of the material slit by the customer. Once the rubber material is determined, a suitable range of hardness is also advised based on the thickness and strength of the slit material to ensure perfect cutting results.
HEAT TREATMENT ASSURANCE
Goodklife's heat treatment workshop is fully equipped with various heating, annealing, quenching and tempering equipment, and is equipped with a number of experienced professional senior engineers. After years of experience summarization, the company's unique heat treatment process has been formed. Tools with a thickness of less than 100 mm can be fully hardened into the core, which can ensure that the performance of the blade is the same until it is ground to the min. size. Not only the safety factor of the blade is high, but also the production efficiency can be significantly improved and the cutting cost can be reduced.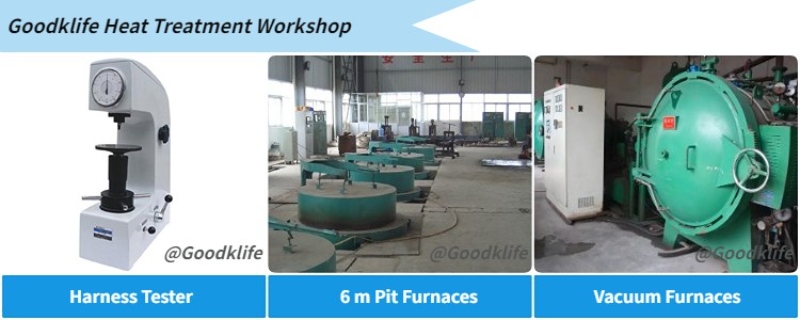 PRECISION TOLERANCE ASSURANCE
Goodklife ultra-high precision slitting knives are more like works of art. The company currently has a number of ultra fine grinding machines and lapping machines. Every employee in the finishing workshop is deeply rooted in the pursuit of high precision, and strictly abides by the operating system to ensure that every slitting tool is qualified.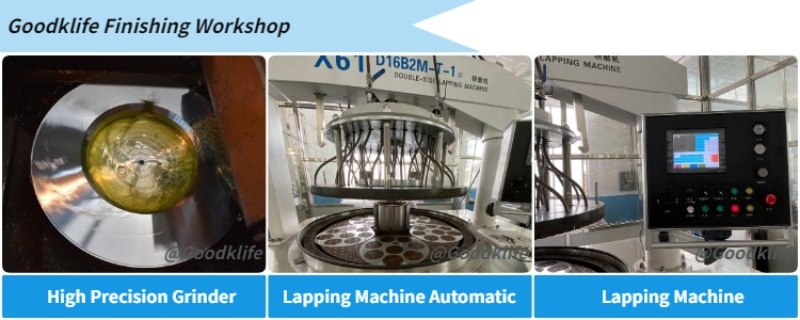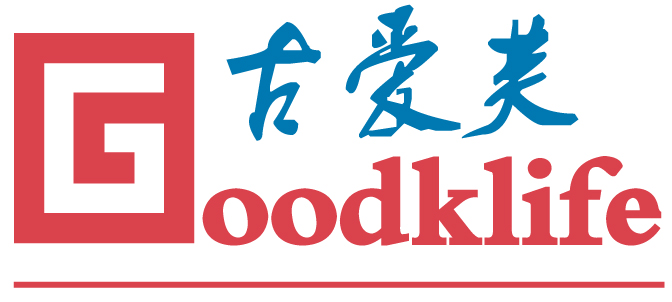 GOODKLIFE - THE CHOICE OF PROFESSIONAL QUALITY
COMPANY PROFILE

GOODKLIFE HISTORY

1988 As one of the first companies producing metal shear processing tools in China, we have been continuously exploring high quality products.
2006 Successfully developed a new tool high-strength steel G1, which greatly improved the service life of metalworking tools. The material was awarded the national new invention patent in 2008.

2011 We started to enter the international market, and now our products are selling well in many countries

HIGH PRECISION TOLERANCE

1998 Started production of slitting tools with a thickness accuracy of +/-0.005 mm.
2000 Started mass production of slitting tools with a thickness accuracy of +/-0.005 mm.
2003 Started mass production of slitting tools with a thickness of +/-0.003 mm.
2016 We started mass production of slitting tools with thickness +/-0.001 mm and parallelism and flatness 0.002 mm accuracy.
Maybe you like
Dafis kemal Aba fira
Jul 04, 2023
Dafis kemal Aba fira 1000 4142 80785 birr
Dafis kemal Aba fira
Jul 04, 2023
Dafis kemal Aba fira 1000 4142 80785 birr
1