1. Goodklife takes three steps to guarantee the quality of blades.
A. ESR raw material
The largest ingot can reach 3 tons in Goodklife company. The ingot obtained by this remelting/refining process is very homogeneous and free of internal defects. The segregation of the ingot (called macro-segregations ) are substantially eliminated and the segregations of crystals (called macro-segregations ) are significantly reduced.
The ESR remelted material improve following mechanical characteristics:
♦Improved toughness due to increased homogeneity and isotropy
♦Improved creep resistance properties
♦Best fatigue strength and tenacity properties as well as outstanding tensile strength
♦Improved purity
B. Forging every piece of blades
The largest electro-hydraulic hammer is 4.5 ton .And more than 6 skilled technicians work for us. After forging, the inside microstructure becomes much closer and the metal grain size becomes much smaller. It can evevate the characteristics and quality of the knife ensuring a longer life.
C. Professional heat treatment technology
Goodklife company has independent workshop for heat treatment. Couples of skilled technicians work here. Actually, most blades ( thickness ≤100mm) can be fully hardened. Thus, the blades can be used after repairing until the size reached the Min. design dimension.
2. Goodklife accept third party inspection ,like SGS etc.
In order to improve the customer experience and maintain strict standard in terms of product quality, Goodklife introduced SGS third party inspection institutions, to escort the product quality. All exports of products for exports must conform to the SGS quality standard, and through strict inspection and testing, product, process, system and service in accordance with national and international regulations and standards.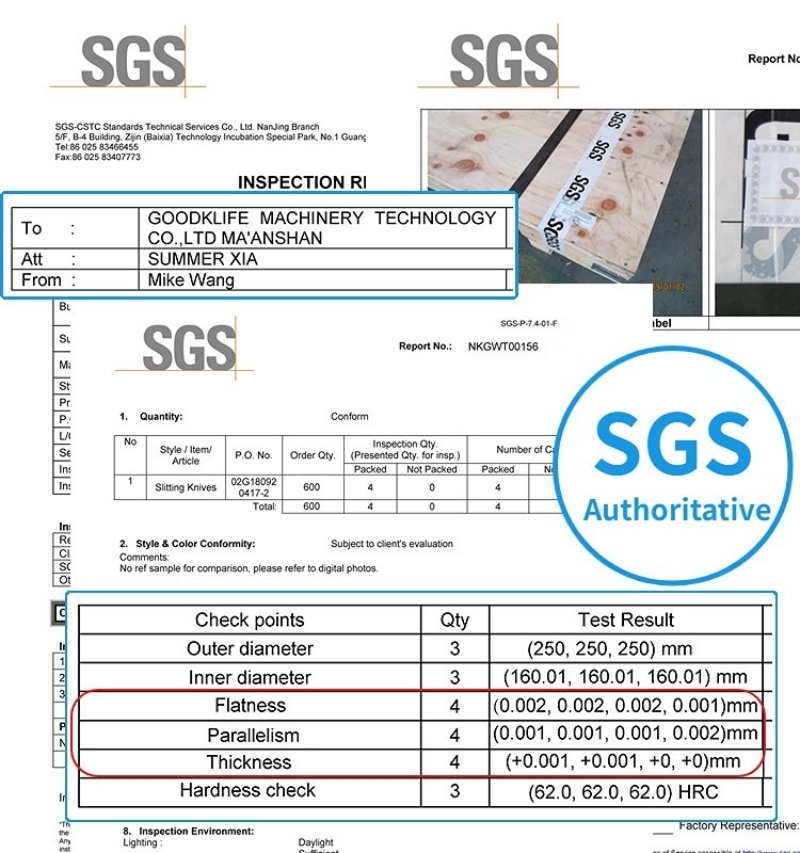 3. Goodklife has complete quality feedback system.
Goodklife takes responsibility for any failure caused by us, and reproduce new blades for you for free. But we seldom receive claim about the quality of our products. Before the delivery, we will check the quality for every piece of blades. We will never send out products with problems while don't inform our customer.

4. Complete customer rights protection system.
The long warranty period, as long as the product cannot be used due to its own quality defects, our company will reproduce it for free or refund it. See GOODKLIFE SERVICE for details.

5. Goodklife also provide analysis and solutions for shear problems.
We can provide technical service from our engineer to assist you in realizing a high quality output.