Spacer for Ultra Precision Shimless Line
High Alloy Steel or Anti-rust Stainless Steel
Ultra Precision Tolerance +/- 0.001 mm
Robust and Long Service Life
Bur-free Slitting
INQUIRY
Description Detail Parameters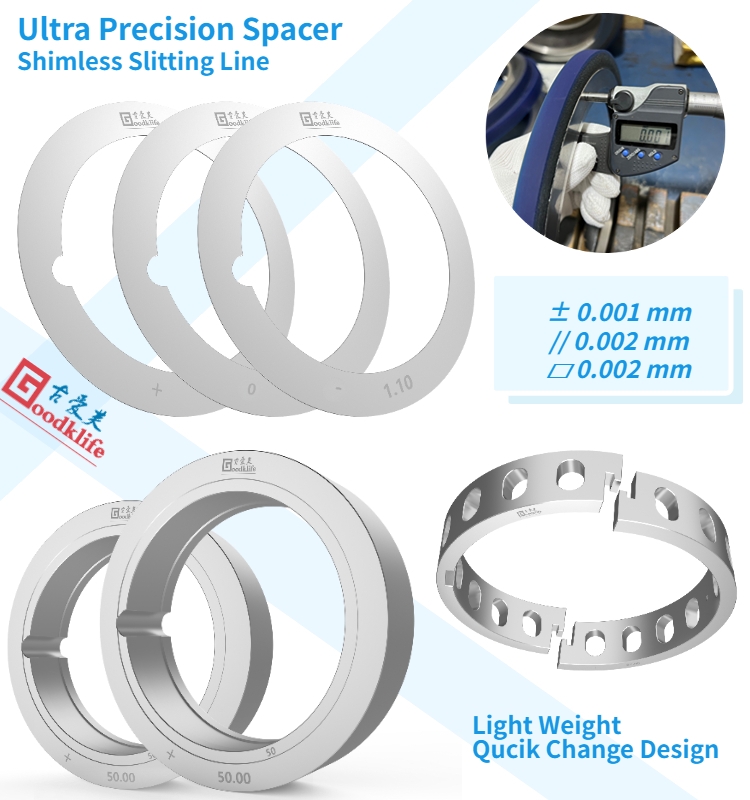 Accuracy Reclassification
"+", "0", "-" Marks for Further
Improvement of Slitting Accuracy
Strict Strip Width Control
Burr-free
Keyway/I.D./Dirt Groove Chamfered
Easier Installation
Operator Protection
Arbors Protection
Precise Dirt Groove for Robot Operation

Marks
Detailed Marking
Easy Tool Selection

Marking Thickness in the Dirt Groove for Permanent Retention
PRODUCT PARAMETER
Brand

Goodklife

Material

Tool Alloy Steel, Stainless Steel

Thickness

+/- 0.0010 mm

Size

Customized

Parallelism

0.002 mm

Flatness

0.002 mm

O.D.

+/- 0.02 mm or as request

I.D.

G7 or as request

Dirt Groove

Yes or as request

Keyway

as request

Heat treatment

thorough-hardening

Surface Quality

Precision Ground/Lapped/Polished/Mirror Polished

MATERIAL SELECTION
Each customer's budget and usage conditions vary greatly. This determines the choice of material and production process for slitting tools. Alloy tool steel has high strength and wear resistance, and stainless steel has good corrosion resistance.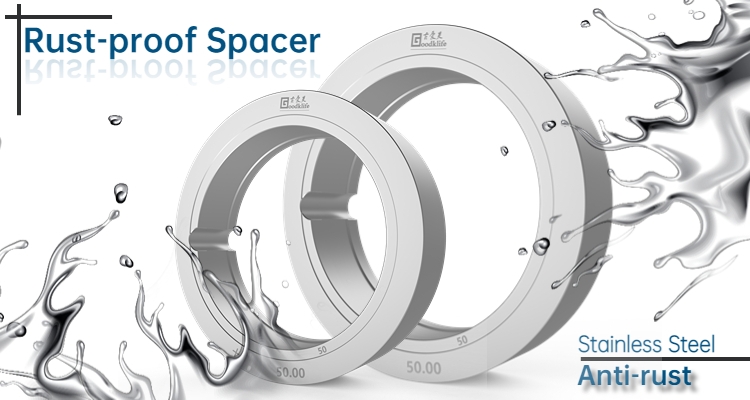 TOLERANCE SELECTION
Flatness and Parallelism
Sufficiently high flatness and parallelism are necessary conditions to ensure that the shear clearance between the upper and lower slitter blades of the slitting machine is always consistent during dynamic operation. Correct clearance is at the heart of ensuring precision cutting. If the surfaces of circular slitter knives are not flat, or the two sides of the blade are not parallel, the gap between the upper and lower blades is always changing. In addition, the reaction force generated by the extrusion of the strip during slitting also causes the gap to change continuously. This will make it impossible to get burr-free strips.

Thickness Tolerance
The thickness tolerance of the blade is mainly to ensure the cutting accuracy of the width of the metal strip and prevent the cumulative error in the knife assembly. If a blade with a thickness tolerance of 1~2 μm or even 0.5 μm cannot be provided, the cumulative error when multiple shearing knives are assembled is unavoidable.

"+", "0", "-" Marks - Slitter Tool Accuracy Reclassification
The re-grouping of precision slitting tools can greatly improve the precision of blade assembling and eliminate accumulated errors. Since it is impossible for a manufacturer to produce spacers of absolutely the same thickness, there is always some allowable error. And the slitting machine is composed of many basic cutting units, and each unit is composed of many knives, bonded stripper rings and spacers. Even the most precise spacers that fully meet the requirements of the drawings will have accumulated errors after tens or hundreds of spacers are stacked together. In order to completely eliminate the accumulated error, the user must group the slitting tools so as to improve the accuracy of the blade assembly. A slitting tools with poor precision cannot use software because no one knows its actual size value. The grouping is to divide all blades and rubber bonded stripper rings, spacers with a tolerance within +/- 1 μm into three groups respectively Marked with "-", "0", "+" marks. When assembling tools, use the principle of "+" and "-" to offset, and put tools (slitter knives, bonded stripper rings and spacers) with zero total error together as much as possible, thereby reducing the gap error of each unit and the total accumulated error.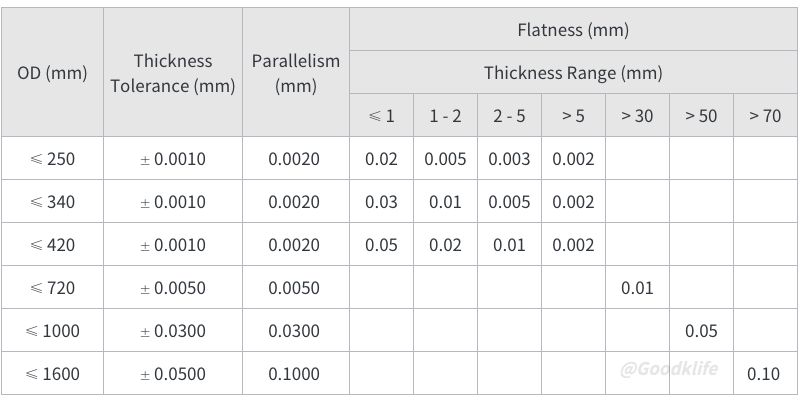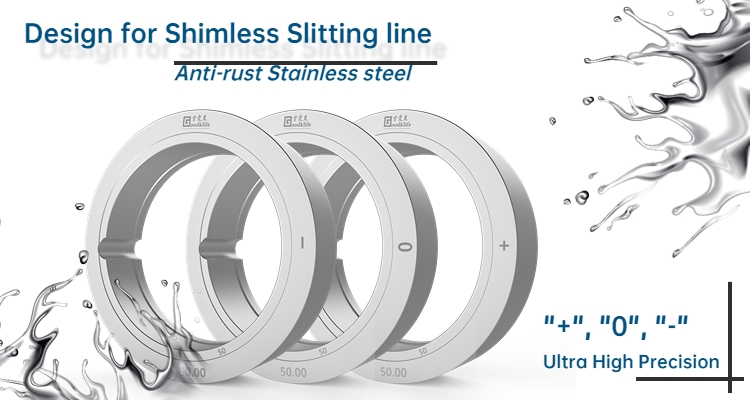 Depending on your budget and requirements, our team of experts will develop a customized solution for you, including but not limited to the selection of slitting tool materials, accuracy, etc. If necessary, our field team will come to your company to study the current cutting problems and improve your cutting quality.

INCREASED LIFESPAN & COST SAVINGS
By selecting the right raw material for the spacer and combining it with proven production processes, we can produce spacers that will last significantly longer and thus reduce your tool purchase costs.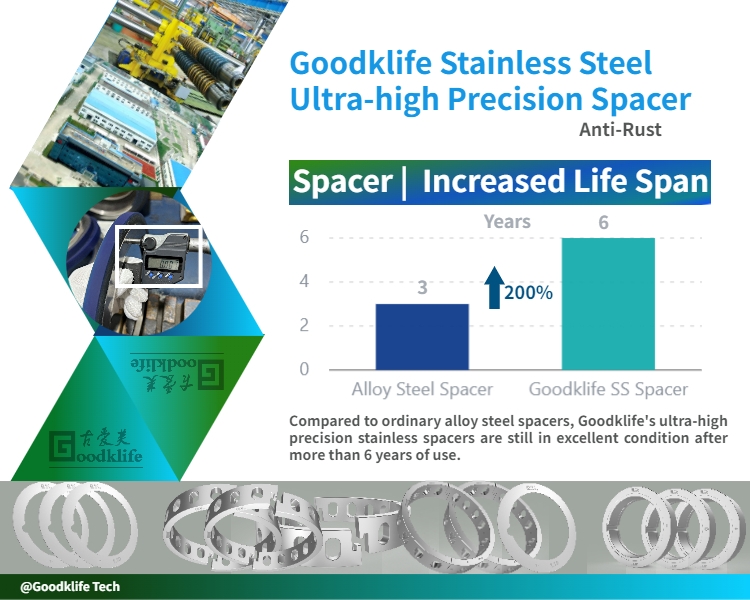 PRECISE STRIP WIDTH CONTROL
Ultra-high precision slitting tools help you achieve perfect strip width control. The application of "+", "0" and "-" marks further improves the cutting accuracy.

| | | |
| --- | --- | --- |
| width of the 2nd strip 27.95 mm | width of the 6th strip 27.95 mm | width of the 9th strip 27.95 mm |
EDGE QUALITY CONTROL
Suitable raw materials for tools and advanced production processes ensure robust slitting tools. Ultra-high precision slitting tooling ensures dynamic and stable upper and lower knives clearance.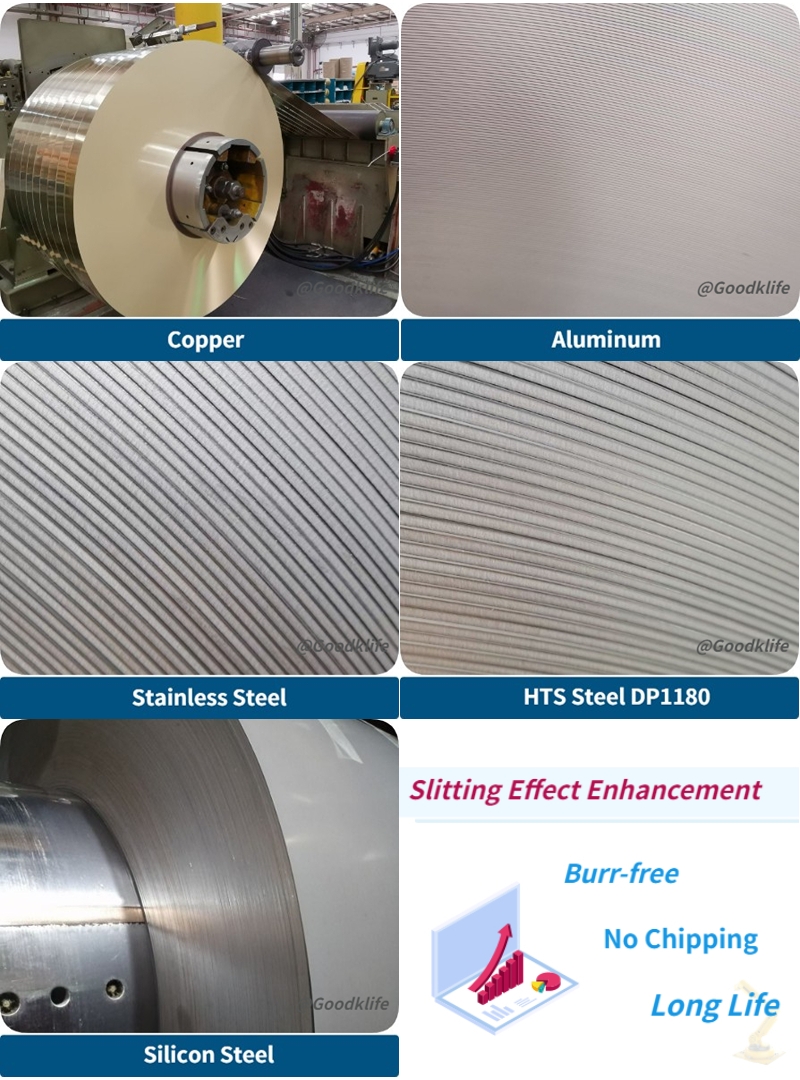 SGS AUTHORITATIVE TESTING
Goodklife has always been committed to providing high-quality, ultra-high-precision cutting tools to customers around the world. In order to enhance mutual trust, for the first cooperation, we now provide free SGS testing services to invited customers to dispel all your doubts.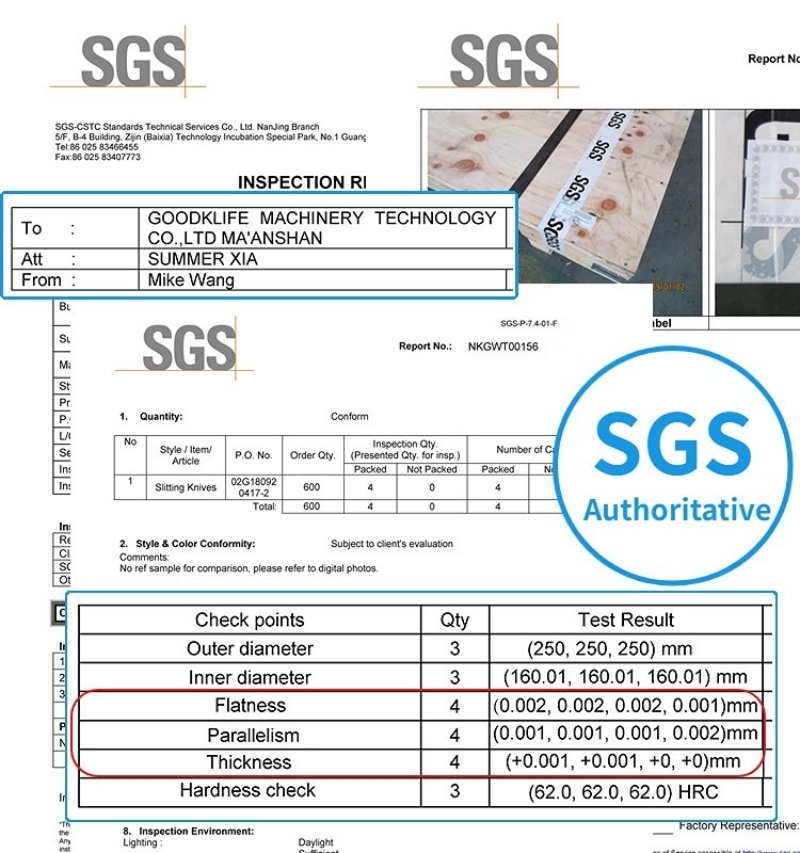 MATERIAL QUALITY ASSURANCE
Raw material is the foundation of spacers quality. Goodklife selects the right material according to your budget and usage scenario. For workshops with more rain or moisture, we will choose high-strength rust-proof stainless steel material. Whether it is stainless steel or alloy tool steel, it will undergo a rigorous heat treatment process to ensure that the product wears well and the rigidity of the entire shear system.
HEAT TREATMENT ASSURANCE
Goodklife's heat treatment workshop is fully equipped with various heating, annealing, quenching and tempering equipment, and is equipped with a number of experienced professional senior engineers. After years of experience summarization, the company's unique heat treatment process has been formed. Blades with a thickness of less than 100 mm can be fully hardened into the core, which can ensure that the performance of the blade is the same until it is ground to the min. size. Not only the safety factor of the blade is high, but also the production efficiency can be significantly improved and the cutting cost can be reduced.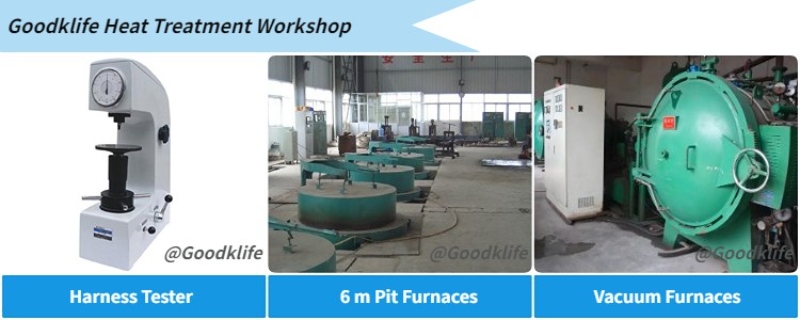 PRECISION TOLERANCE ASSURANCE
Goodklife ultra-high precision slitting tools are more like works of art. The company currently has a number of ultra fine grinding machines and lapping machines. Every employee in the finishing workshop is deeply rooted in the pursuit of high precision, and strictly abides by the operating system to ensure that every slitting tool is qualified.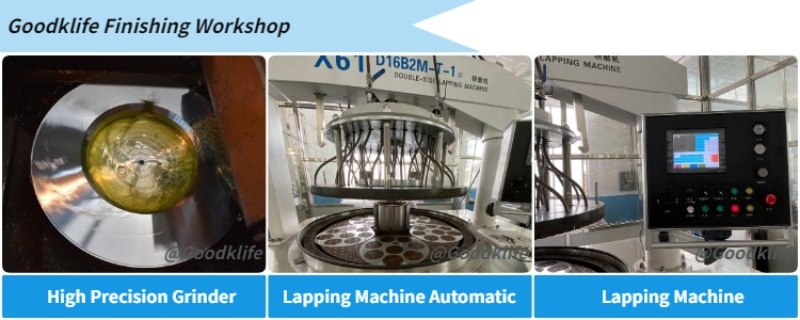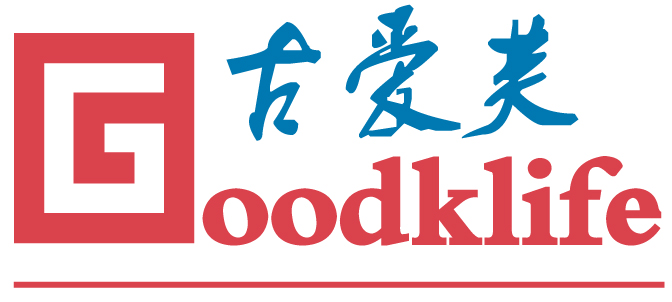 GOODKLIFE - THE CHOICE OF PROFESSIONAL QUALITY
COMPANY PROFILE

GOODKLIFE HISTORY

1988 As one of the first companies producing metal shear processing tools in China, we have been continuously exploring high quality products.
2006 Successfully developed a new tool high-strength steel G1, which greatly improved the service life of metalworking tools. The material was awarded the national new invention patent in 2008.

2011 We started to enter the international market, and now our products are selling well in many countries

HIGH PRECISION TOLERANCE

1998 Started production of slitting tools with a thickness accuracy of +/-0.005 mm.
2000 Started mass production of slitting tools with a thickness accuracy of +/-0.005 mm.
2003 Started mass production of slitting tools with a thickness of +/-0.003 mm.
2016 We started mass production of slitting tools with thickness +/-0.001 mm and parallelism and flatness 0.002 mm accuracy.
Related Products Recommendation
| | | |
| --- | --- | --- |
| SPACER | STRIPPER RING | HYDRAULIC NUT |
| | | |

PRODUCT
Brand
Goodklife
Material
Tool Alloy Steel, Stainless Steel
Thickness
+/- 0.0010 mm
Size
Customized
Parallelism
0.002 mm
Flatness
0.002 mm
OD
+/- 0.02 mm or as request
ID
G7 or as request
Dirt Groove
Yes or as request
Keyway
as request
Heat treatment
thorough-hardening
Surface Quality
Precision Ground/Lapped/Polished/Mirror Polished
CHARACTERISTIC
Specialized for
design for supper high quality bur-free slitting
PACKAGING
Inner packaging
applied with anti-rust oil, packed in plastic bag separately or as request
Outer packaging
cardboard case/plywood case or as request
to be packed solidly suitable for long distance marine transportation and multi-handling and well protected against dampness, moisture, shock, rust and rough handling. We will be liable for any expense and loss attributable to inadequate or improper protective measures taken by us in regard to the packing.
Mark & Sign
on the surface of each package the package number, measurement, gross weight , net weight and the wordings "RIGHT SIDE UP"' , "HANDLE WITH CARE", "KEEP DRY", and the above shipping mark will be stenciled with fadeless paint.
DOCUMENTS & CERTIFICATE
Commercial Documents
commercial invoice/packing list/insurance policy/certificate of origin/full set of bill of lading
Quality Certificates
inspection certificate/raw material data sheet/quality certificate/heat treatment certificate/certificate of quality/certificate of quantity
Inspection Report by the third party
SGS/TUV/SAG or as request
PAYMENT TERMS
Official Payment
letter of credit (L/C)/payment against documents/TT or as request
Quick Payment
western union/credit card/Paypal/alipay/wechat or as request
DELIVERY TERMS
Special Service (DDP/DDU)
door to door (by courier/by sea/ by air/by train/by bus or combined transportation)
our experienced transportation team provides door to door service, including customs clearance in destination country.
Standard Service
FOB/CFR/CIF/FCA or as request
Maybe you like