Slitting Blades for Steel Coil
We manufacture slitting blades up to 1500 mm ( 59.06 inches ) in diameter for slitting and side trimming lines. Slitting blades can cut 1.2-25mm thick hot rolls and 0.2-4mm thick cold rolls.
INQUIRY
Description Detail Parameters
SLITTING BLADES FOR STEEL COIL

Cutting material:Steel Coil
| | |
| --- | --- |
| Steel coil, also known as coiled steel. The steel is formed into rolls by hot pressing and cold pressing. In order to facilitate storage and transportation, it is convenient to carry out various processing (such as processing into steel plates, steel belts, etc.). Slitting blades can cut 1.2-25mm thick hot rolls and 0.2-4mm thick cold rolls. Widely used in the automotive industry, metal products, canning industry, engineering construction, industrial electrical, home appliance industry, etc. | |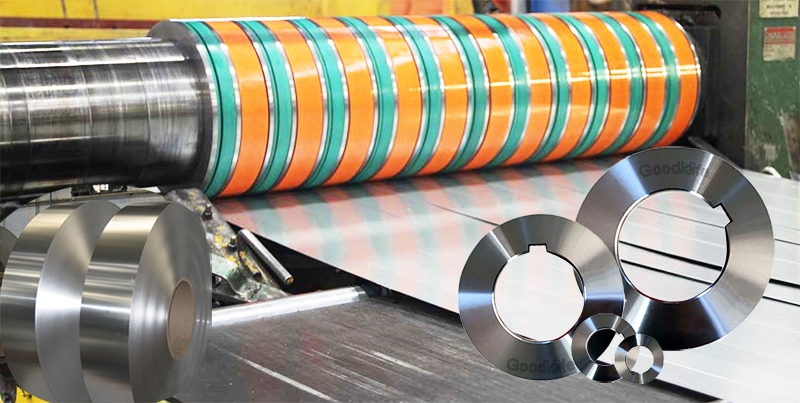 | | |
| --- | --- |
| Brand | Goodklife |
| Origin | Ma'anshan China |
| Series | Steel Coil |
| Material | ESR Purified Raw Material - G1 |
| External tolerance | +/- 0.01-+/- 0.02 mm |
| Inner diameter tolerance | H6, H7 |
| Surface finish | Ra=0.2, 0.4 um |
SPECIAL SLITTING BLADES FOR STEEL COIL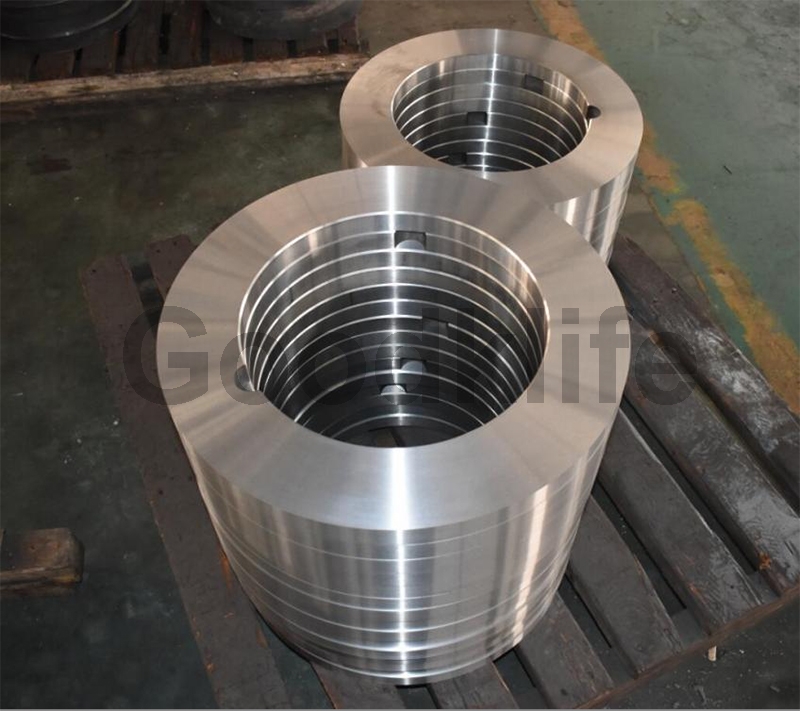 Slitting machine blade material
Due to the anti-shearing and abrasion between the blade and the plate, the blade will produce a metal surface fatigue layer, and the choose material of the blade can extend its service life as much as possible. At present, the common blade materials are:

A. SKD-11 (Cr12Mov), SKD-12 (high hardness cold die alloy steel), SLD-11 are the most advanced digital materials in this series
B. SKH-9, SK-51, SK-31, SK-48, SK54, etc. (Molybdenum series high-speed tool steel)
C. SKD-4, SKD-5, etc. (low hardness cold die alloy steel)

Analysis of metal elements of the blade material and applicable plates:
A. SKD-11 (Cr12Mov): its carbon content is between 1.4 and 1.6, and the chromium content is between 11.00 and 13.00. Compared with other alloys, its Mo content and V content have higher hardness (it can reach Hardness range 58°-60°), toughness and wear resistance, suitable for the following plates:
① Cold rolled plate (SPCC) 0.3 ~ 3.2;
② Surface treatment board (electrolytic, galvanized, color, etc.) 0.3 ~ 3.2;
③ Stainless steel (SUS) 0.1~1.0.
B. SKD-4: With high nickel content and high toughness, it is suitable for shearing thick hot-rolled plates and high-tension plates, but has poor wear resistance.
C. SKD-5: It is between SKD-4 and SKD-11, suitable for mid-slab cutting.

SKD-4
Stainless steelSUS3.2 ~6.0 HRC53°~55°
Hot rolled sheet SPHC6.0 ~9.0
High tension board 3.2~6.0(such as manganese board, etc.)
SKD-5
Stainless SteelSUS2.0 ~3.2 HRC55°~58°


D. SKH-51: High content of tungsten, molybdenum and vanadium. It is the same series of molybdenum high-speed tool steel (SKH-9) with SKH-54, which has high wear resistance. HRC60°~63°
E. SKH-54: It is a higher grade material of SKH-9 series, HRC61°~64°.

SKH-51
Silicon steel sheet0.1 ~0.65
Non-ferrous metals 0.05~2.0
SKH-54
Silicon steel sheet0.1~0.5

E. New Material G1 is a patented material of Goodklife Company, which belongs to low-carbon high-alloy special steel, specially designed for (ultra) high-strength steel. Compared with traditional blade materials, its cutting life is significantly improved.

Fig. 1

Service life comparison table

Service life comparison
Figure 1 is customer purchase slitting blades for cutting 1.0mm SPCD material. Three companies were purchased to compare the service life. G1 is our patent material. It is designed to cut medium-size thickness steel sheet. It has excellent performance of wear-resistance and toughness.The services life is 1.8 time longer than H13 from America.


Fig. 2 Performance Comparation of Slitting Blades Made of Three Different Materials for 1.0mm SPCD material

Shipping :
FOB, CIF, DAP and etc. According to customers' requirements.
Packaging :
A. Inside packing: Applied with anti-rust oil and then packed in plastic bag
B. Outside packing: Packed in plywood case

BRAND PURSUIT, Considering from every angle of each knife, it is GOODKLIFE's endless pursuit to design a tool suitable for the user's working conditions.

We have more than 30 years of experience
in this field. We also have own factory,
and we can customize product
according to customer's need.



.Shearing smooth, no burr, long service life. Please contact us if you have any questions after receiving the product. We'll be patient and work it out for you.
MICRON-LEVEL PRECISION, the ultra-high-precision slitting tools perfectly meet the demanding slitting, avoiding all unfavorable factors such as excessive accumulated errors.
MORE SLITTING SPARE PARTS FOR SELECTION
| | | |
| --- | --- | --- |
| SPACER | STRIPPER RING | HYDRAULIC NUT |
| | | |
***RELATED ARTICLES RECOMMENDED***

PRODUCT
Brand
Goodklife
Material
Tool Alloy Steel, Like H13, G1 (refer to Material Recommendation Sheet)
Thickness
+/- 0.0010 mm or as request
Size
Customized
Parallelism
0.002 mm or as request
Flatness
0.002 mm or as request
OD
+/- 0.01 mm or as request
ID
H6 or as request
Dirt Groove
Yes or as request
Keyway
as request
Heat treatment
through-hardening
Surface Quality
Precision Ground/Lapped/Polished/Mirror Polished
CHARACTERISTIC
Specialized for
design for steel coil (such as SPHC、SPHE、Q235、SPCC、SPCD、SPCE , etc)
PACKAGING
Inner packaging
applied with anti-rust oil, packed in plastic bag separately or as request
Outer packaging
cardboard case/plywood case or as request
to be packed solidly suitable for long distance marine transportation and multi-handling and well protected against dampness, moisture, shock, rust and rough handling. We will be liable for any expense and loss attributable to inadequate or improper protective measures taken by us in regard to the packing.
Mark & Sign
on the surface of each package the package number, measurement, gross weight , net weight and the wordings "RIGHT SIDE UP"' , "HANDLE WITH CARE", "KEEP DRY", and the above shipping mark will be stenciled with fadeless paint.
DOCUMENTS & CERTIFICATE
Commercial Documents
commercial invoice/packing list/insurance policy/certificate of origin/full set of bill of lading
Quality Certificates
inspection certificate/raw material data sheet/quality certificate/heat treatment certificate/certificate of quality/certificate of quantity
Inspection Report by the third party
SGS/TUV/SAG or as request
PAYMENT TERMS
Official Payment
letter of credit (L/C)/payment against documents/TT or as request
Quick Payment
western union/credit card/Paypal/alipay/wechat or as request
DELIVERY TERMS
Special Service (DDP/DDU)
door to door (by courier/by sea/ by air/by train/by bus or combined transportation)
our experienced transportation team provides door to door service, including customs clearance in destination country.
Standard Service
FOB/CFR/CIF/FCA or as request
Maybe you like