Guillotine shear blade for hydraulic shearing machine
The Length can max. reach 5500mm . With patent raw materials and advanced technology of heat treatment , Goodklife's blades have much longer worklife .
INQUIRY
Description
The Guillotine Shear Blade is the core component of the shearing machine, and its quality will directly determine the quality of the shearing effect. A good shear blade not only needs to meet the requirements of shape and position tolerance, but also needs to select materials and design production processes according to the customer's specific cutting conditions. The perfect shape and position tolerance can ensure the accuracy and constantness of the upper and lower blade clearance during the cutting process, and the appropriate blade material and processing technology can greatly increase the service life of the shear blade and avoid the occurrence of chipping. In daily work, many customers habitually buy blades from machine manufacturers, but almost all machine manufacturers do not produce blades. In order to keep costs down, machine manufacturers often purchase a large number of universal blades, which results in customers not being able to purchase satisfactory blades.

Features:
1. Grade: G1,G2,G3,Cr12MoV,Cr12Mo1V1,SKD11,H13,D2,LD and etc.
2. Size: Length Max. can reach 5500mm.
3. Application: Cut to length line, guillotine shears, alligator shears and other metal cutting machine.
4. Certification: ISO9001, SGS
| | |
| --- | --- |
| Product Name | :Guillotine shear blade for hydraulic shearing machine |
| Material: | Hard alloy tool steel |
| Used: | Cut to length line |
Our shearing machine blade features precise dimensions, excellent finish, and safe to use, compact design, sturdy structure, corrosion resistance and durability. We can make available products in customized sizes and with varied technical specifications according to the needs of buyers. We are involved in providing an array of sheering machine blades to the patrons. Banking on our vast experience in the industry, we are engaged in providing quality assured and customised shearing machine blade with excellent strength, easy installation and durable finish standards at competitive prices.


Products Show: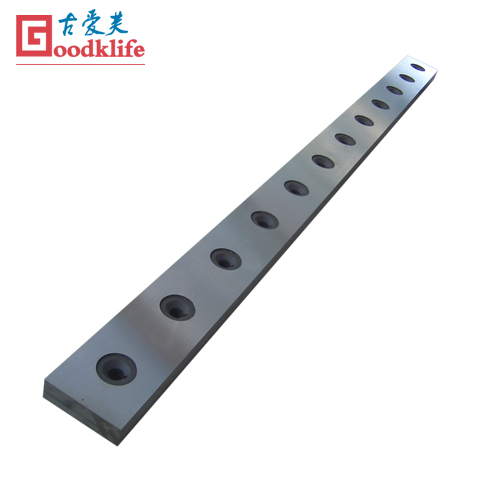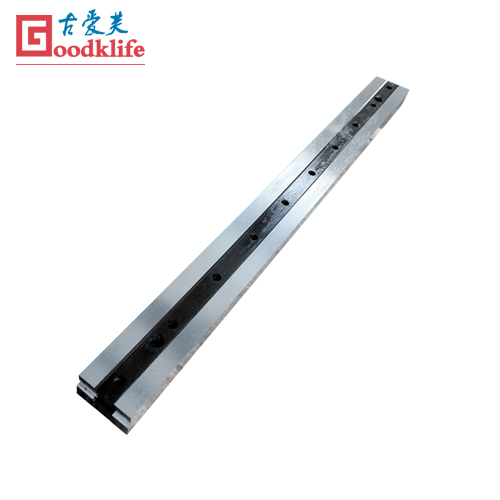 Other main products:
| | |
| --- | --- |
| Hot strip mill cutting blade | Fly shear blade |
| Scrap chopper knife | rotary side trimmer knife |
Our Service:
1.Individual design of tooling system
2.Solutions for special slitter-tooling, designed for your applications.
3.Technical service from our engineers to assist you in solve the problem of cutting edge and realizing a higher quality output.
4.On-site Inspection
5.Seminar and Training
We can custom blades according to your drawing or samples.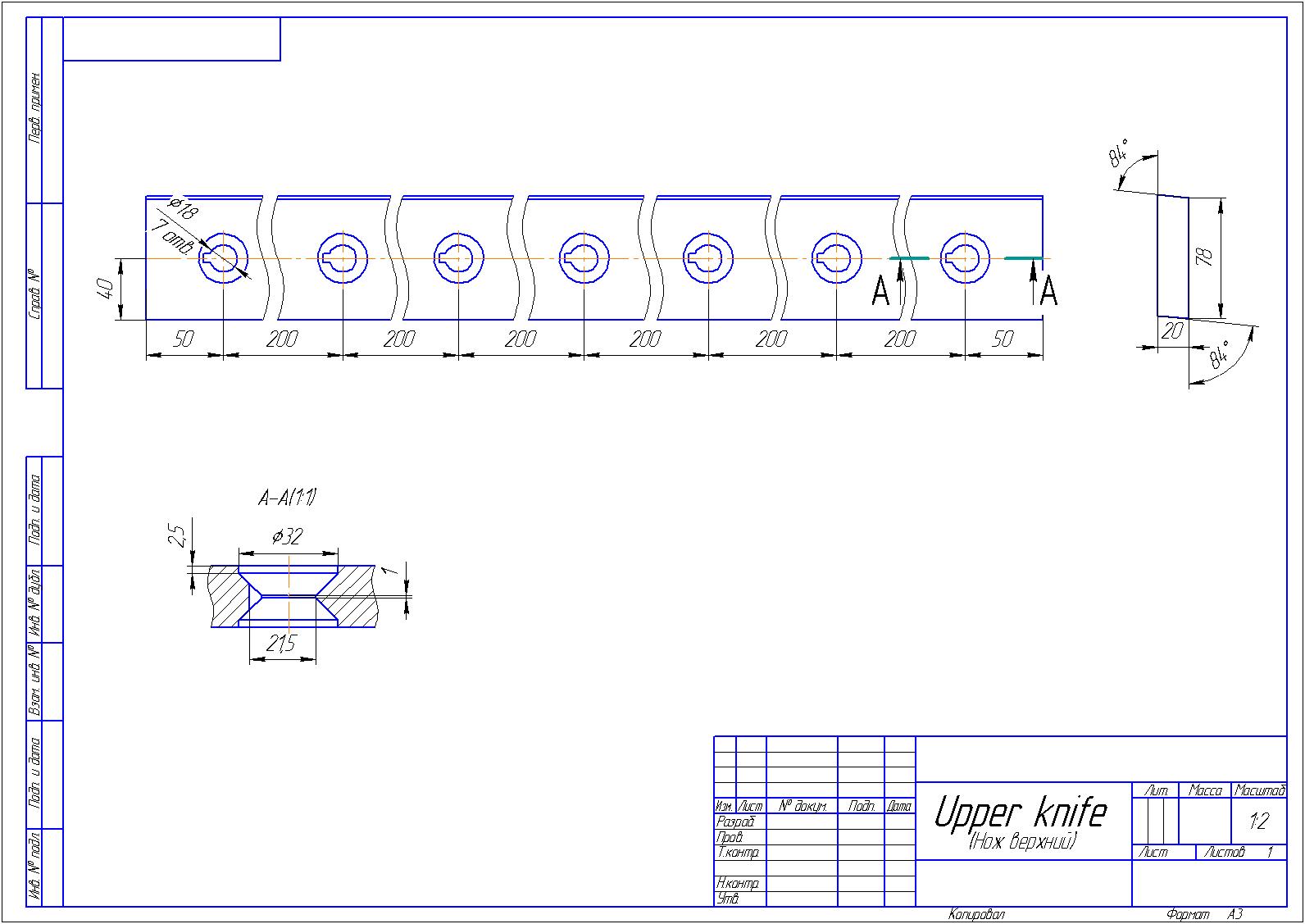 Packing & Delivery:
Packing Details:
a. Inside: With anti-rust oil in plastuc bag
b. Outside: Packed in strong plywood case
Delivery Details: 5-50 days after receive your payment ,according to your quantity

Payment terms:
T/T, LC, Western Union, Ali Insurance and etc.
If you have any inquiry, welcome to contact with us.
Contact information:
Contact person
Mr. Summer Xia
Brand
Goodklife
Address
Bowang Town, Ma'anshan, Anhui, China (Mainland)
Mob/Whatsapp/Wechat:
+86-18655532633
Skype
xiaodong0401
E-mail
summer@goodklife.com
Website
http://www.goodklife.com


Machine manufacturer V.S. blade professional manufacturer - GOODKLIFE

1.PROFESSIONALISM
Machine manufacturers have a certain understanding of the cutting-edge information of machines and their own machines, and some manufacturers even lead the development of the industry. But for a certain brand, it generally only occupies some market share in a certain industry or a few industries, which results in limited professional experience. For example, after customers who cut non-ferrous metal sheets enter the stainless steel industry, their original machine manufacturers may not have experience in cutting stainless steel sheets.
The professional manufacturer of cutting tools - GOODKLIFE cooperates with many well-known machine manufacturers. The industry involves a wide range of industries and can provide customers with more professional guidance.

2.SELECTIVITY
In order to reduce costs, machine manufacturers often purchase a large number of general-purpose blades. The materials are mostly 9CrSi, 5CrW2Si, and 6CrW2Si. These three general-purpose materials are far from being able to meet the increasing number of sheet cutting tasks.
The professional manufacturer of cutting tools - GOODKLIFE not only provides dozens of standard materials, such as D2 (1.2379, SKD11), H13, LD, etc., but also patented materials G1 and G2.

3.TIMELINESS
Once the universal blade provided by the machine manufacturer cannot meet the usage requirements, machine manufacturer often needs to communicate back and forth between the user and the tool manufacturer, which is slow and error-prone.
The professional manufacturer of cutting tools - GOODKLIFE can quickly understand the situation and formulate detailed plans, from locking the problem to proposing a solution to delivering it, which can greatly save customers' time.

Whether your machine is a guillotine or a pendulum shear, from a European brand or an Asian brand, we can provide you with the most professional solution.

Maybe you like
Lim Boon Hoe
Sep 07, 2021
Dear Sir, We need advice, quote, and supply of few sets of Guillotine Shear Blades for cutting plastic sheet in roll of 1,200mm in length, 0.8mm in thickness. Please advice. Regards, B H Lim Factronics Systems Engineering Pte Ltd Handphone : +65 93863130
1