Rotary slitter knife for coil processing line
Item No.: GMX210413658
We can provide high precision coil slitting blade according to your requirements. The Max OD we can make reaches 1500mm.
INQUIRY
Description
Details:
Tolerance of Outside diamater: ±0.01mm
Tolerance of Thickness: ±0.001mm.
Finish: Precision grinding, Polishing, Lapping, Mirror Finishing
Surface Finish: Ra0.1 or more.
Material: 6CrW2Si, D2, H13,G1,G2 .G15
Custom: Acceptable
Lead Time: 45 days,depend on the quantity
Advantages:
1.Goodklife make steel by itself. Firstly we make steel through medium frequency furnace and then during ESR (electro slag remelting ), then will guarantee the raw material much purer.

2.Each blade will be forged, Goodklife never produce blades from steel sheet. After forging, the inside microstructure becomes much closer and the metal grain size becomes much smaller. It can elevate the characteristics and quality of the knife ensuring a longer life.

3.Each blade will be fully hardened. Fully harden means the surface hardness is exactly same as core hardness. Thus, the blades can be used after repairing until the size reached design dimension.

4.All manufacturing processes are carried out in our plant, including steel-making, forging and heat treatment.This characteristic of Goodklife, allowed us to build a rich experience in the selection and process of tool steels.

5.We offer technical support regarding the selection of the most suitable steel grade and heat treatment, for all metal cutting application.
If you are interested in Rotary Slitter Blades, please feel free to contact us.
Products Show:
Work Shop:
As one of the most well-known Circular Knives Manufacturers, we have a sets of precision equipments to make our blades. Every year, we receive the repeat order from our regular customers reaches 10,0000 USD.
Our Equipments:
Our Packaging: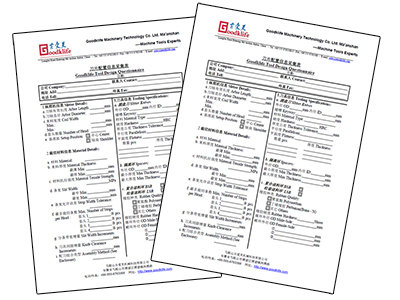 Technical support:

1.Individual design of tooling system
With Goodklife Tool Design Questionnaire, accurate quantity Knives, Rubber Bonded Rings, Spacers and other tools will be recommended. Every cent makes sense, avoiding wasting and excessive investment.

2.Solutions for special slitter-tooling, designed for your applications.
Technical service from our engineers to assist you in solve the problem of cutting edge and realizing a higher quality output.

3.On-site Inspection
If needed, our teem will visit the client and check the precision condition of machine. Relevant advises will be provided and help the clients to improve cutting performance together.

4.Seminar and Training
In order to improve the cutting experience, relevant seminar and training are available and will be held at our customers' site.
Goodklife offers a wide range of rotary slitter knife specially designed for high performance and precision cutting applications. These knives are suitable for applications in stainless steel coil slitting lines and can be combined with spacers, rubber bonded rings & overarm separator discs. Each of our products ensure efficient cutting performance and can sustain high temperature applications. All our knives and blades comes with clean cutting edges, low coefficient of friction, and resistance to corrosion and higher levels of blade durability.Get a quote.

Our skilled and experienced engineers can turn complex customer requests into products with absolute precision. We provide shear cutting systems having tolerance of outside diamater: ±0.01mm and tolerance of thickness: ±0.002mm. The finishes available are precision grinding, polishing and lapping. Accuracies of up to +/- 0.0005 mm can also be produced for special requirements. We supply standard and custom designs for highly precise knives and shear blades. We produce custom rotary slitter knife for cut-to-length lines and guillotine shears. If you are looking for rotary slitter knife for stainless steel coil slitting, we can recommend you the best material and hardness according to your applications of blades.
Maybe you like